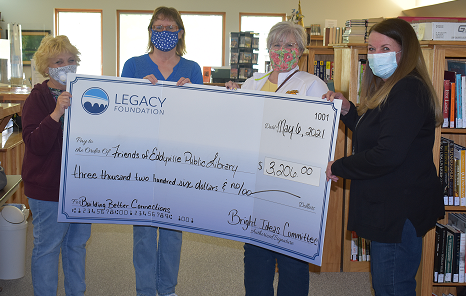 Thanks to a grant from the Legacy Foundation, the Friends of the Eddyville Public Library will be able to purchase three new desktop computers for the library. The purchase will include wireless mice, a microphone, and Microsoft office programs. The library plans to purchase the equipment as soon as possible, hopefully making the new technology available to patrons of the library by summer.
This is a day and age where purchasing goods, seeking education, and government entities are requiring more and more to happen online with many people not having access to technology and the internet in their homes. The library is seeking to provide updated technology to fulfill these needs in our community. We are so thankful for being awarded this technology grant from the Legacy Foundation.
The Legacy Foundation, a non-profit charitable foundation created in 2010, is committed to creating opportunities to develop, implement and sustain innovative programs and services that will have a measurable impact on the improved health, education and vitality of the City of Ottumwa and Wapello County.